24 Karat Gold Ayurvedic Facial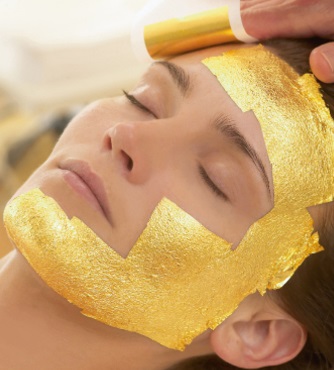 Metals like gold, silver and copper have long been components in treatment and healing therapies in the field of Ayurveda. Gold has always been associated with beauty and being a part of Rasayana - Ayurvedic rejuvenation therapy.
24 Karat gold is one of the very best ''warm in nature'' ingredients and has been used over thousands of years by some of the most famous women in history including Cleopatra to acquire and retain that lustrous glow of a youthful skin.
Gold is a natural metal and it is great for people with sensitive skin. Gold is also non-toxic and doesn't react with other ingredients. It is a big source of antioxidants.
To create a moment of alchemy we combine 24 karat gold with Ayurvedic ingredients such as pure rose water and pure aloe vera gel to give you the single most luxurious and beneficial facial you will ever experience.

The benefits of this luxury treatment include:
anti-aging properties
preventing many skin problems
boosting cell regeneration

and blood circulation

anti-inflammatory properties

slowing down the collagen depletion process

skin that is more hydrated, toned, smooth, radiant and glowing

skin that is more resistant to the effects of tiredness and fatigue
At Taj Amishi we only use gold that is free from chemical and mineral impurities and preservatives and has not been tested on animals. The gold is laboratory tested and meets the standards of the European Pharmacopia.
The other products that Taj Amishi use during the treatment are also pure and natural such as rose water, aloe vera and rose serum.
1 hour and 30 minutes
£85
Gift vouchers available